"Taoist techniques of thrusting and withdrawing during intercourse

also aim to prolong the act by delaying or preventing ejaculation.

In frontal intercourse, for example, the man is advised to make the major

point of friction occur between the women's clitoral region and the top

side of the base of his penis. -- not betwen the glans of the penis

and the inner vaginal walls.



Taoist pillow books make frequent refernce to various thrusting

patterns such as "three shallow, one deep", "six shallow, two deep",

and so forth, but the one recommended most often by the ancient adepts

is "9 shallow, one deep". The deep thurst helps pump back up

the penis. The deep thursts also provide direct stimulation to

the female "G" spot.



The penis remains in the vagina during the shallow thrust.

Shallow thrusting permikts a man to deliver strong, direct stimulation

to a woman's sensitive zone - the clitoris -- using the least sensitive

soit - the tip of his penis --relatively immobile deep inside her.



The shallow thurst maintains contact with the womans clitors and

rubbing it with the male genital hair. Also most woman orgasm clitorially

than vaginally. The goal of shallow thrusting is to delay or prevent

ejaculation. Delaying also allows for multiple orgasams as it is

easier to keep a pot of water boiling (orgasm) by simmering, than reboling

it fromn scratch. Doing sex this way explains the reason for the

pubic hair on the male and female, as the hair aids in lubrication and

allows the male pubic hair to contact the clitoris during sex.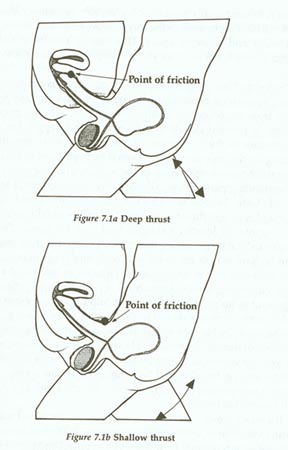 See also: http://www.mydr2.com/cgi-bin/english/fetch2.pl?refnum=762